San Jose Chiropractor Helps Relieve Back Pain and Optimize Wellness
If you struggle with back pain, neck pain or a chronic musculoskeletal condition, there is hope. You do not have to rely on prescription painkillers or invasive surgery. Chiropractic care and whole body wellness can restore your body's natural alignment and balance and set you free from pain. Here at Insight Chiropractic in San Jose, our wellness team is proud to provide the most comprehensive chiropractic care and functional nutrition in the San Jose area, serving the Los Gatos, Saratoga, Santa Clara, Cupertino and Campbell communities.
San Jose Chiropractor Cares for the Whole Body, Heals From Within
At Insight Chiropractic, we believe in whole-body wellness. This means we care for your body, rather than reacting to symptoms of a disease. We believe that pain and illness are a reflection of an internal imbalance, and we use non-invasive hands-on adjustments and decompression therapy to restore alignment to your musculoskeletal system. Our goal is not only to relieve pain, but to heal the underlying condition and prevent future injury. We believe in a complementary approach to chiropractic care, and combine spinal alignment treatments with therapies including active release (ART) massage, balance therapy, corrective exercises, functional nutrition and massage therapy.
Our wellness team is lead by San Jose chiropractor Dr. Jennifer L. Forster D.C., who discovered chiropractic care at age 14. After she became ill due to a dangerous reaction to anti-inflammatory medications and lost nearly 40 pounds, chiropractic care helped Dr. Forster regained her strength and overcome her acute illness and helped her back pain. She has dedicated her life to helping patients who suffer from pain regain their energy, strength and a full range of movement so they can live a long and healthy life. Today, Dr. Forster combines hands-on chiropractic care with physiotherapy, massage therapy, rehabilitation exercises and functional nutrition counseling.
Insight Chiropractic is committed to helping you care for your body at all stages of your life. Our wellness team has a special focus on senior care, proving that age truly is just a number. For example, balance therapy and rehabilitation exercises have helped many of our senior patients recover from injury, strengthen their core and increase their range of movement. Many of our senior patients are more active today than they have been in years!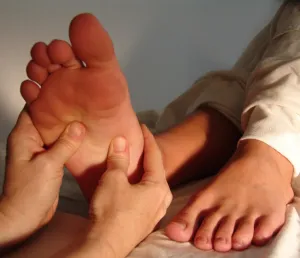 We believe whole body care starts literally from the ground up, and we have a special focus on foot care. Our feet support our bodies and sustain a substantial amount of shock and impact pressure each day. Many footwear leads to abnormal walking patterns and mechanical stress that can cause the entire body to fall out of alignment. Proper alignment of the feet through extremity adjustment is the "first step" toward whole body wellness. Dr. Forster also offers extremity adjustments for the shoulders, elbows, wrists, rib cage, hips and knees, helping patients overcome injury pain, discomfort and stiffness.
Caring for your whole body is more than just physical rehabilitation and alignment. Our practice emphasizes nutritional health and emotional wellness. Every patient is unique, and our San Jose chiropractor Dr. Forster creates a customized program tailored to your current health condition and offers rehabilitation needs that combines chiropractic alignment with insights into proper nutrition and emotional balance. Whether you suffer from back pain, need assistance recovering from an injury or feeling run down and not well, Dr.
Forster will help your body naturally heal from within. Our San Jose chiropractic office is conveniently located to serve the Los Gatos, Saratoga, Santa Clara, Cupertino and Campbell communities. Call us at (408) 357-3270 to schedule an appointment with Dr. Forster