Senior Balance Therapy
Senior Balance Therapy Class have been geared around our own body's Balance Network system. This Balance Network, builds and maintains balance using three separate areas: eyes, ears and joint sensors. Our exercises have been specifically designed to include all three balance centers with minimal effort and maximum benefit.
Our classes are regularly attended by seniors ranging from 65-95 years old and of all ambulatory skill levels. Classes are primarily used to enhance balance skills and practice fall prevention Walkers and canes are encouraged to be used during class. This class is also designed for those that are sedentary majority of the time. These exercises are great for rehabilitation for those that have been inactive or bed-ridden due to injury or illness. Additionally, these exercises are used to enhance balance for fall prevention.
---
Equipment
Balance disc, resistance bands, chairs and a hallways with railings.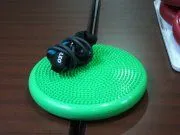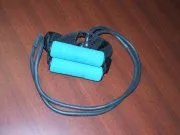 ---
Warm up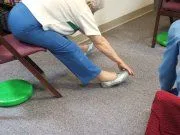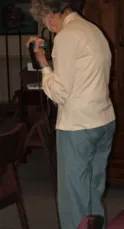 Warming up is an essential part of exercising and is done using stretching and resistance bands.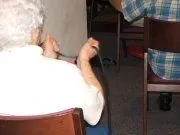 ---
Balance Disc
Exercises developed for this disc enhance balance for hands, seated and standing positions. This disc helps to build strength in the joints as well as challenge joint balance. Eyes can be open or close when preforming the seated hand and foot balance skills.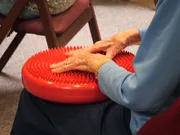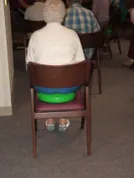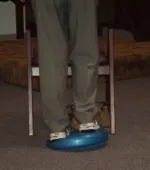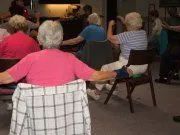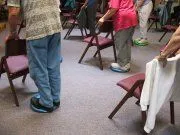 ---
Walking
---
Standing
Standing exercises are developed to include range of motion exercises using one leg at a time. Additionally, while standing we practice basic cross-crawl patterns and foot balance positioning.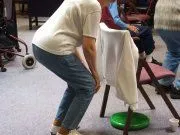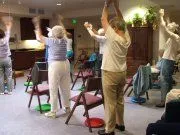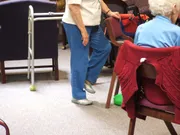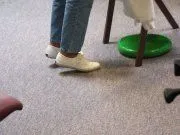 ---
Cool Down
It is just as important to cool down after exercising. Several minutes are set aside for cool down