Chiropractic and Functional Nutrition
at Insight Chiropractic in San Jose, CA.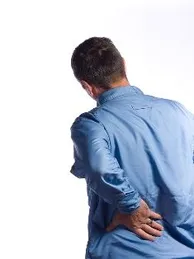 At Insight Chiropractic in San Jose, CA we are dedicated to wellness, rehabilitation and functional nutrition and promoting a pain free, healthy lifestyle for our patients. We serve patients in the communities of San Jose, Los Gatos, Saratoga, Santa Clara, Cupertino and Campbell. Our chiropractor, Dr. Forster, provides comprehensive chiropractic and holistic care. In addition, Dr. Forster is very active in chiropractic science and is constantly searching for new innovative techniques that can improve the lives of her patients. Here at Insight our motto is: It's Your Life... Live it in Health!
At the chiropractic clinic we focus on total body health and wellness. Your body is a complex interrelated structure. When we are well, all the parts of our body work together so seamlessly we take our good health for granted. Similarly, when one part of our body breaks down it affects our entire body. All aspects of your health must be involved for the healing process to be effective. Just treating the pain seldom leads to long-term success. This is why we promote total body health and will treat more than just your pain or injury.
Our chiropractic care includes hands-on adjustment techniques to heal back pain and your extremity joints to restore and rehabilitate all area with pain or injuries. We adjust shoulders, elbows, wrists, hips, knees, and the rib cage to provide pain relief and reduce stiffness. Our chiropractor also specializes in foot adjustments and caring for foot conditions. Our feet are our most important and abused extremities and foot pain can be devastating to your entire lifestyle and health. Good health begins from the feet up!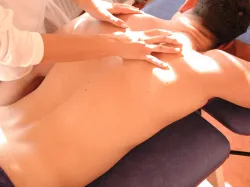 We also have a massage therapist here at the office and incorporate massage therapy and Active Release Techniques ART massage into our chiropractic care. Massage therapy is associated with many health benefits. It activates all the muscles and ligaments, increases circulation and helps to release the toxins trapped in tight neck and back muscles. It also promotes tissue rehabilitation, healing and relieves back pain. Also, massage is an excellent treatment for emotional wellness and chronic pain including headaches. Massage therapy is particularly beneficial for seniors and often reduces their need for oral over-the-counter pain medications.
Our chiropractor incorporates balance exercises and strengthening exercises into your wellness program. Balance exercises are particularly helpful for seniors and they can help to realign the body and promote overall good health. In addition, balance exercises are important for maintaining spatial equilibrium and this can help to prevent falls.
San Jose Rehabilitation from Back Pain Includes Nutritional Counseling
San Jose rehabilitation for us includes nutritional counseling. A healthy diet is instrumental for healing and wellness. Every individual is unique and sometimes food allergies play a significant role in the delay of your recovery from injuries and pain. Our chiropractor will investigate your health history and diet and may suggest that you take whole food supplements to enhance your healing and rehabilitation. Our whole food supplements has proven to be helpful for many of our patients. Food is medicine.

Dr. Jennifer L. Forster, D.C.
San Jose Chiropractor

Insight Chiropractic
2435 Forest Ave. Ste. 110 San Jose, CA 95128 | 408-244-0727