San Jose Sports Medicine and Chiropractic Care
Chiropractic sports medicine is a field of medicine that focuses on providing the chiropractor's skill and knowledge to the prevention, diagnosis, management and rehabilitation of injuries that are related to exercise, sports or other recreational therapy.

Immediate treatment is essential in treating overuse syndrome. Overuse syndrome can come as a result of injuring yourself. You do not have to be a professional athlete to benefit from the knowledge of our sports medicine practitioner. If you are suffering from back pain or other pain related to an injury, Dr. Forster can help.

Sports Medicine for Rehabilitation from Injuries and Pain
When an injury occurs, our chiropractor can make adjustments to the spine that help the vertebrae regain their normal motion, which allows the patient to return to their daily activities sooner. Combined with physio-therapy, rehabilitation and massage therapy, this noninvasive treatment can help patients avoid reliance on painkillers, which can be addictive.

Another form of chiropractic therapy that is used successfully in treating sports-related injuries is active release therapy. Active Release Techniques (ART) is a soft tissue management skill that aids the recovery of injured or over-used muscles, nerves and connective tissue. Dr. Forster is certified in active release therapy (ART), and thereby allowed to provide it as a service to her patients.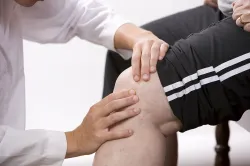 As important as it is to treat injuries, the role of the practitioner is to also educate the patient on how to avoid future injury. This might involve teaching the patient on how to stretch and warm up properly or how to utilize other exercises to prepare for activity. Also of use in the prevention of injury is massage therapy, which Dr. Forster can discuss with you. Prevention is key in avoiding back pain and future injuries.

At Insight Chiropractic in San Jose we believe in total body care from the feet up. This means that we are committed to providing the best and most current forms of therapy available, including massage therapy and rehabilitation techniques. Dr. Jennifer L. Forster D.C. is an athlete herself and served as an Active Release Techniques (ART) therapist for Ironmancompetitions. In addition, Dr. Forster has completed the coursework in Certified Chiropractic Sports Practitioners studies and is now an established sports medicine provider in the San Jose, Los Gatos, Saratoga, Santa Clara, Campbell and Cupertino areas.
In addition, she served as a sports chiropractor for UC Berkeley and a walking coach for San Jose Fit. As an athlete herself, she recognizes the unique challenges to sports medicine and can bring both perspectives, that of patient and chiropractor, to each consultation.

Chiropractors believe that if the spine is in good health then the rest of the body can be of good health and will be able to optimally perform. Through various therapies including massage therapy and physio-therapy, we will help you live a life of wellness. Whether you are in Los Gatos, Cupertino, Santa Clara, Saratoga or Campbell, you have the right to the best care available and we are here to offer it to you. Call us at (408) 357-3270 to speak with Dr. Forster about any sports injuries you are suffering from.